Great Barrier Reef Legacy is an innovative leader in collaborative coral reef research expeditions, education, stewardship and multi-media engagement.
A not-for-profit social enterprise, Great Barrier Reef Legacy was created to address the urgent need to secure the long-term survival of the Great Barrier Reef and coral reefs world-wide.
Built on over 35 years of expedition, tourism, multimedia and research experience, we deliver groundbreaking projects, innovative science, education and public engagement to accelerate actions vital to the preservation of coral reefs.
Through public, private and corporate donations, Great Barrier Reef Legacy brings together the best scientific minds, talented educators and inspired multimedia specialists to create positive and lasting outcomes for our environment.
OUR MISSION
To be a global leader in marine expeditions, delivering innovative science, education and public engagement to accelerate actions vital to the future survival of coral reefs
---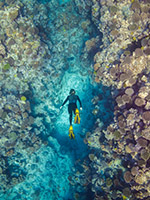 OUR VISION
A world where the future of rich, diverse and healthy coral reefs is assured
---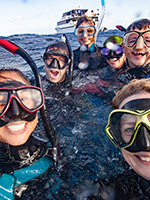 OUR CORE BELIEF
TOGETHER, THERE ARE NO
BARRIERS

TOO

GREAT

TO SAVE OUR

REEFS